Human centricity, resilience & sustainability
It is hard to imagine 21st-century Asset Management without data or, for that matter, without people. There is so much to be said about the interaction between them and about how human centricity, resilience, and sustainability enter into the equation. One thing is clear: an incredibly fascinating evolution is taking place, and it is definitely in your best interest to get on board. Jan Stoker, expert on this topic, sets the tone.
Author: Ing. Jan Stoker MSc. MEng.
Jan breathes Asset & Maintenance Management. Starting out as a Maintenance Technician, he has made a career through various roles in the corporate world and as a Teacher/Researcher in Asset & Maintenance Management. He is currently engaged as a Senior Asset Manager at Rijkswaterstaat West-Nederland Noord (WNN), also holds the position of Chair ETC-EFNM and Visiting Fellow/Senior lecturer and Researcher at Cranfield University. He is a product of the Excel generation but has always been in search of more efficient ways to process technical information. Through his research and teaching programmes, he has continually developed himself, surrounded by inspiring professionals and NextGen's. Ready to tackle the challenges and opportunities of this complex timeframe.
Industry 5.0, 4.0 enabler
Talking about the timeframe, Jan Stoker is clear: "We are moving into a fascinating era of digital transition. A lot is happening, sparked by Artificial Intelligence (A.I) and as example Generative ChatGPT as a catalyst for ideas. I greatly admire the twenty-somethings who can quickly pick up codes from the internet and build impressive technology. This brings me to Industry 5.0, the enabler of Industry 4.0, which is focused on information transition, extracting data from assets. This is in fact increasingly being achieved. Now, what can you do with all this data? That is where with an Asset Management perspective Industry 5.0 comes into play. It aims to boost Industry 4.0 with a focus on humans. The methods remain the same, but the quality will be better."
Be aware: we are already in the 5
th
Industrial Revolution. Even though Industry 5.0 is a relatively new concept, some early academic writing describing the main features of this notion already exists. An analysis of Industry 5.0 literature shows a lot of uncertainty about what it will bring and how exactly it will disrupt business, as well as about how it will potentially break down barriers between the real and the virtual world. Based on a literature review and our forward-looking analysis, Industry 5.0 will be defined by a re-found and widened purposefulness, going beyond producing goods and services for profit. This wider purpose constitutes 3 core elements. You will receive all the details during the conference:
Human-centricity – digitization and innovation centred around humans.
Sustainability – contributing to a more sustainable world through Asset & Maintenance Management.
Resilience – the industry needs resilience to respond to all challenges.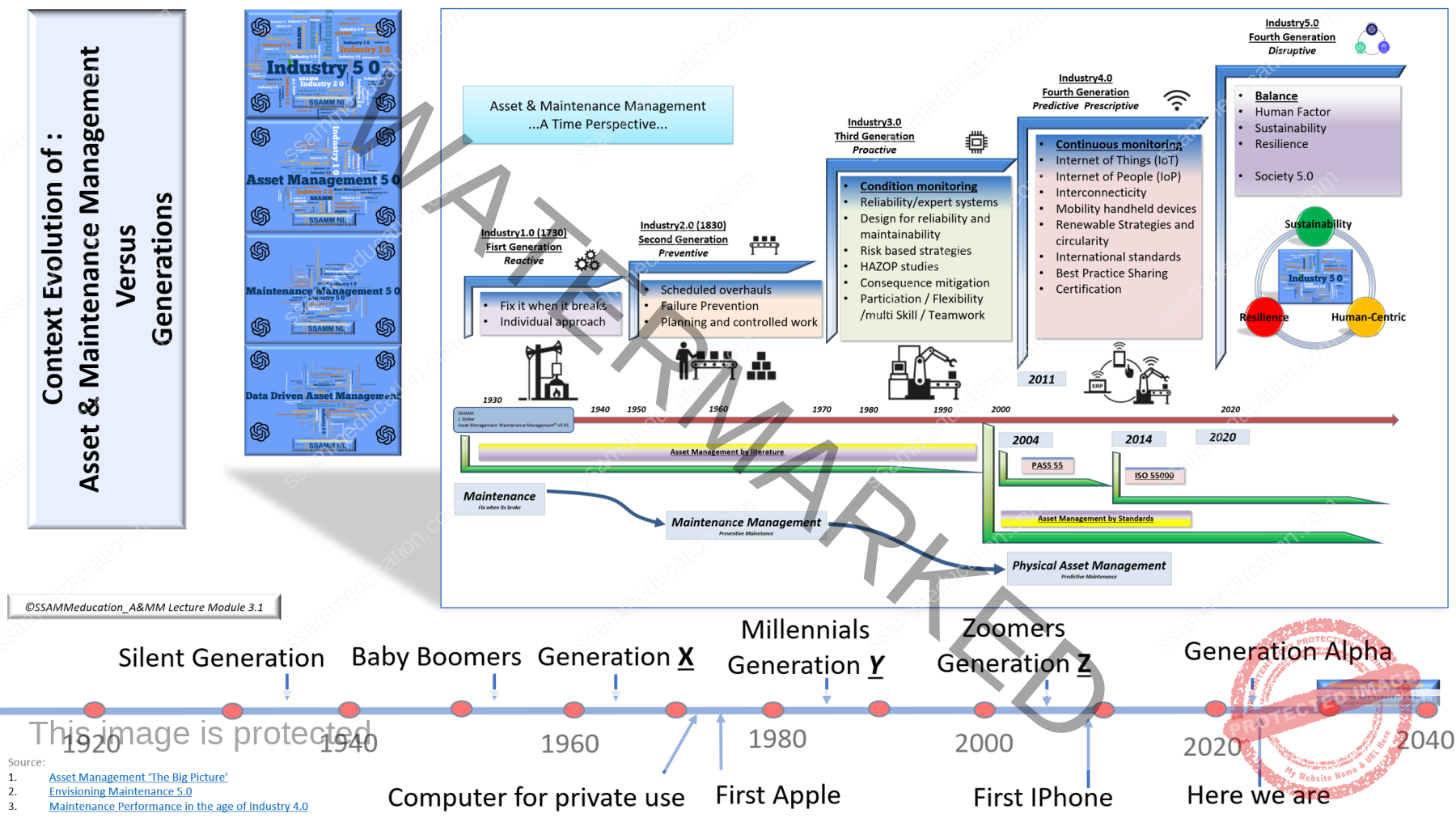 How does this translate into Asset & Maintenance Management? It involves incorporating theory into your processes, applying it while keeping humans in control. The human as an asset. Now, at the end of Industry 4.0, it is time to reconsider the role of the human factor, resilience and sustainability in an increasingly smart technological environment.
Rijkswaterstaat in transition
At Rijkswaterstaat, Jan stoker feels the daily challenges. The organisation is facing the huge task of maintaining and replacing assets. The civil infrastructure in the Netherlands is worth more than €300 million. However, this infrastructure is aging. More and heavier trucks than initially anticipated are driving on our roads. How long can our bridges, viaducts, locks, dams, and quays last? Jan's contribution to the Asset Management implementation plan consists of structuring the 'Bridges & Structures' and 'Tunnels' chains in terms of both data & information and people & organisation. Six process steps are involved in the process: policy and strategy, management and programming, planning and preparation, construction and maintenance, monitoring and analysis, evaluation and adjustment.
Jan Stoker: "The focal point is to work together with the Maintenance Engineers to identify the P-IHPs (Preventive Maintenance Plans) and FME(C)As (Failure Modes, Effects & Criticality Analysis) of the most essential assets in order to quantify risks and develop maintenance concepts, maintenance plans and replacement investments. Rijkswaterstaat is in full transition. Like the rest of the world, we are embracing the use of data. And I believe that Industry 5.0 will be valuable in the long run."
Passion never fails
All this is becoming more and more fascinating for future Asset & Maintenance Managers, Technicians and Engineers. The timeframe is full of choices to be made, if we want to create a sustainable future. "It encourages me to overthink and discuss how to educate, train and motivate today's professionals and how to prepare NextGen's in this complex timeframe. The Asset Performance Conference is the place to be if you want to learn more about this or share thoughts and ideas. See you there," says Jan Stoker.